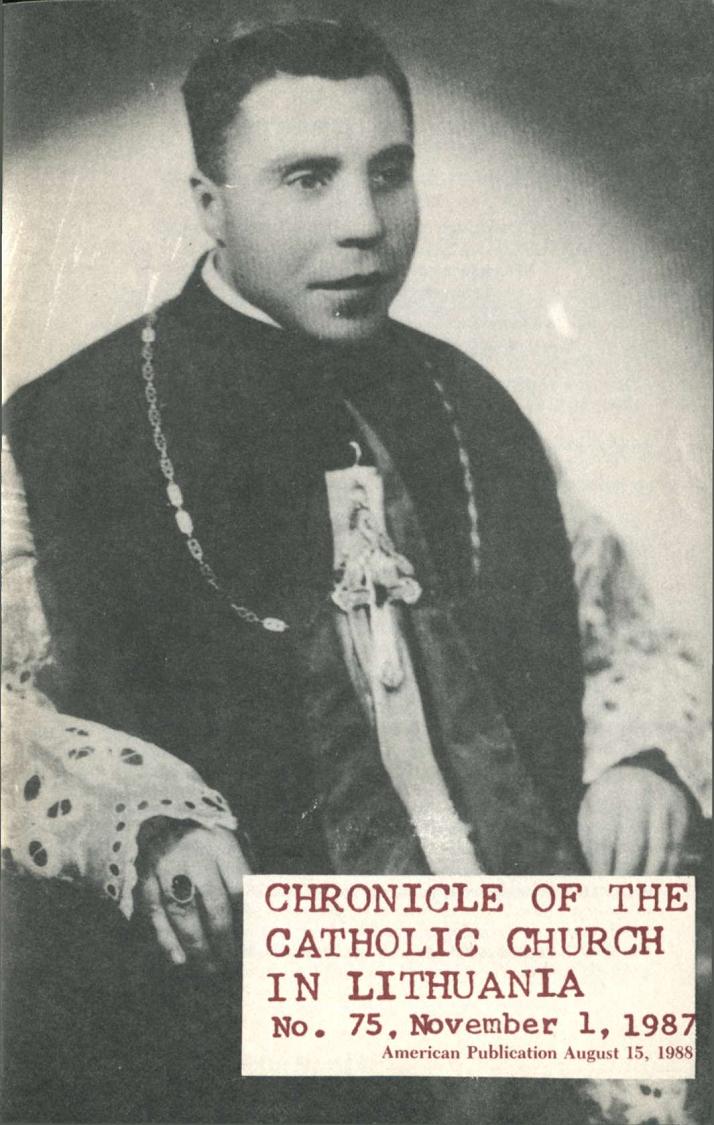 Appearing since 1972 Read this and pass it on!
Tliis issue is dedicated to Father Jonas-Kąstytis Matulionis, back in Lithuania after three years of imprisonment in the Soviet Gulag.
CHRONICLE OF THE CATHOLIC CHURCH IN LITHUANIA, NO. 75

In this issue:
1.Is It Restructuring or Just Plain "Brainwashing"?
4.An Appeal to All People of Good-Will Worldwide
9.From the Archives of the Chronicle
Lithuania........................................ November 1,1987
CHRONICLE OF THE CATHOLIC CHURCH IN LITHUANIA No. 75
A Translation of the Complete Lithuanian Original LIETUVOS KATALIKŲ BAŽNYČIOS KRONIKA Nr. 75 Documenting the Struggle for Human Rights In Soviet-Occupied Lithuania Today
Translated by: Rev. Casimir Pugevičius Translation Editor: Marian Skabeikis
Published by: Lithuanian Catholic Religious Aid 351 Highland Blvd. Brooklyn NY 11207
© Lithuanian Catholic Religious Aid, 1988 ISSN 0197-0348
Publication of this issue of the Chronicle of the Catholic Church in Lithuania was made possible by the generous gift of Albin Kudirka
COVER: Bishop Vincentas Sladkevičius as Auxiliary to the Bishop of Kaišiadorys in 1957. From 1959 until he was permitted to return to his diocese as Apostolic Administrator, he lived under virtual house arrest. On May 30, 1988, he was designated as the first known cardinal for Lithuania in modern times. He was presented with the red hat on June 28,1988, in Rome.
Printed at Franciscan Press, Brooklyn, New York, U.S.A.
CHRONICLE OF THE CATHOLIC CHURCH IN L1THLANIA No. 75
Introduction
In 1940, when the Soviet Union occupied Lithuania by force, 85.5% of the country's more than 3 million inhabitants were Roman Catholic, 4.5% Protestant, 7.3% Jewish, 2.5% Orthodox and 0.2% of other persuasions.
In the two archdioceses and four dioceses were: 708 churches, 314 chapels, 37 monasteries, 85 convents, three archbishops, nine bishops, 1271 diocesan priests, 580 monks, of whom 168 were priests. Four seminaries had 470 students. There were 950 nuns.
Nuns cared for 35 kindergartens, 10 orphanages, 25 homes for the aged, two hospitals, a youth center, and an institute for the deaf-mute.
On June 15, 1940, the Red Army marched into Lithuania; the in­dependent government was replaced by a puppet regime.
On July 14-15, rigged elections were staged. On July 21, with the Red Army surrounding the assembly house, the new People's Diet "unani­mously" declared Lithuania a Soviet Socialist Republic.
On June 25,1940, the Church was declared separate from the state, and the representative of the Holy See was expelled.
Parish lands were confiscated, clergy salaries and pensions were cut off, and their savings confiscated. Churches were deprived of support. Catholic printing plants were confiscated, and religious books destroyed.
On June 28,1940, the teaching of religion and recitation of prayers in schools was forbidden. The University's Department of Theology and Philosophy was abolished, and all private schools were nationalized. The semi­naries at Vilkaviškis and Telšiai were closed, and the seminary at Kaunas was permitted to operate on a very limited scale. The clergy were spied upon con­stantly.
On June 15,1941,34,260 Lithuanians were packed off in cattle-cars to undisclosed points in the Soviet Union. After World War II, the mass depor-talions resumed and continued until 1953.
Vincentas Borisevičius, Bishop of Telšiai, was arrested on February 3, 1946, and condemned to death after a secret trial. Before year's end, his auxiliary, Bishop Pranas Ramanauskas, was also arrested and deported to Siberia. Bishop Teofilius Matulionis of Kaišiadorys and Archbishop Mečis­lovas Reinys of Vilnius were deported to a Siberian labor camp. Archbishop Reinys perished in prison at Vladimir, November 8, 1953. By 1947,
Lithuania was left with a single bishop, Kazimieras Paltarokas, of Panevėžys. He died in 1958.
In 1947, the last convents and monasteries were closed, their com­munities dispersed, and all monastic institutions were outlawed.
After Stalin's death in 1953, there was a slight improvement in the religious situation. Bishops Matulionis and Ramanauskas were allowed to return to Lithuania, but not to minister to their dioceses or to communi­cate with the clergy or laity.
Bishop Ramanauskas died in 1959, and Archbishop Matulionis in 1963.
In 1955, two new bishops were appointed by Rome and consecrated: Julijonas Steponavičius and Petras Maželis. Steponavičius has never been permitted to administer his diocese.
Bishop Vincentas Sladkevičius, consecrated in 1957, was kept under severe government restrictions until 1982. In 1965, Monsignor Juozas Labukas-Matulaitis was consecrated in Rome to head the Archdiocese of Kaunas and the Diocese of Vilkaviškis. Two new bishops were consecrated in 1969: Bishop Romualdas Krikščiūnas was appointed Apostolic Ad­ministrator of the Diocese of Panevėžys, and Bishop Liudas Povilonis was appointed auxiliary to Bishop Labukas, and succeeded him after his death in 1979.
In 1982, Bishop Sladkevičius was permitted to return to his diocese as Apostolic Administrator of Kaišiadorys. Father Antanas Vaičius was named bishop and Apostolic Administrator of the Diocese of Telšiai and the Prela-ture of Klaipėda.
Relaxation of pressure on religious believers soon revealed that the Lithuanian people were still deeply religious. It was decided in the mid-fif­ties to resume the attack. The principal means of attack would be unlimited moral pressure, since physical terror seemed only to strengthen and unify the faithful.
In 1972, the Chronicle of the Catholic Church in Lithuania, clandestinely published in that country, began to reach the free world at ir­regular intervals. Primarily intended to keep Catholics in Lithuania informed of the situation of the Church there, these Lithuanian samizdat also serve as a constant appeal to the free workd not to forget the plight of a people strug­gling against overwhelming odds to defend their religious beliefs and to regain their basic human rights.
Rev. Casimir Pugevičius Translator
INDEX OF PERSONS
(Andriuška), Jonas 54, 64, 65 (Andruškienė), Eleanora 54
Abraitis, Vidas 20 Abuladze 14, 37 Andriuška,S.J., Father Benediktas 54, 60, 64, 65 Anilionis. Petras 4.11.13. 22. 23, 24. 25. 26, 29,47,49,51 Antanaitis, Father Bronius 34 Antanavičius, Father Juozas 5 Aravidzes, Variam 38 Atkočiūnas, Father Edmundas 4
Bacharov 55 Badmazhapov 8 Bakučionis, Jurgis 41 Balaitis 54 Balashov 65 Balionas, Father Ladislovas 35 Balkevičius, Vladas 5 Barauskis 69 Bartulis, Father Eugenijus 5,52 Baumila, V. 40 Begner 57 Beresnevičius, Bishop Aleksandras 69 Berteška, Father Juozas 29 Bieliauskienė, Jadviga 3 Bizauskas 62 Bley,S.J., Father 54,56 Bogušis, Vytautas 32, 33 Borisevičius, Bishop Vincentas i Boruta, Father Jonas 35 Brilius, Father Kęstutis 40 Briliūtė, Birutė 39,40 Brusokas, Father Viktoras 34 Bružikas,S.J., Father 58 Bubė,S.J., Father 56 Bučinskas, Father Jonas 7 Bučiūtė,Miss53 Bučys, Bishop 58 Budrius, Alionidas 10 Burneikis, Father Bronius 7, 27 Butkauskas, S. 35 Butkus, Father Vytautas 6 Butleras 68
Česnulevičiūtė,Daiva37 Chainskas 62 Chechurov 54 Chelnokov 65 Cidzikas, Petras 33
D'Herbigny, Dr. 61 Dambrauskas, Liudas 20 Danyla, Father Jonas 20 Danyla, S.J., Father Jonas 63, 64 Dapšys, Juozas 53 Delininkaitienė, Mrs. 59 Dobilaitis, Father Juozas 31, 35 Dovbush, Alexei 72 Drueding,S.J., Father 56 Dulbinskis, Bishop 12 Dzerzhinski 30 Fedor 8
Fulst,S.J., Father Karl 57
Gajauskas, Balys 19, 74 Gaščiūnas, Father Kazimeiras 7 Gauronskis, Father Vincentas 53 Gavėnaitė, Monika52 Gediminas 12 Gedvilą, Father Jonas 7, 34 Golitsyn 55, 65 Gorbachev, Mikhail 20, 27, 33, 34, 37 Grabnickas, Father Alvydas 31 Grauslys, Father Vaclovas 3 Gražulis, Father Antanas 3,4, 20, 29 Gražulis, Father Kazimieras 20, 51 Gražulis, Petras 3,20 Grazhinov 62 Grigas, Robertas 5,19, 20, 30, 31, 32, 33, 35, 38 Gruodis,S.J., Father 57, 60 Gudanavičius, Father Gustavas 35 Gudonis, Mečislovas 53 Gutauskas, Father Algirdas 2
Hitler 17,18, 30
Iešmantas, Gintautas 19, 43, 74 Ilinčius, Father Stanislovas 3
Jagminas, Father Leonardas 34 Jakaitis, Father Kleopas 34 Jakštas, Father 46 Jalinskas, Father Vincas 4 Janusevičius, Msgr. 58 Jogaila 66 Jokūbauskas, Father Antanas 34 Jonaitis, S. 38 Juodaitis, Father 56, 60 Jurginis 5 Jurkšta 40, 41
Kėzytė, Sister Valentina 63 Kalinauskas, Father Leonas 20 Kapsukas, Vincas 13 Karevičius, Bishop Pranciškus 10 Kasčiuška 66 Katkus, M. 51 Kauneckas, Father Jonas 3,12,13, 20,51 Kavaliauskaitė, Ona 40 Kazakevičius, V. 10 Kazlauskas, V. 22 Kelpšas, Saulius 12, 20 Kęstutis 66 Kharchev, Konstantin 11, 27 King Žygimantas Augustas 70 King, Coretta Scott 7 King, Martin Luther, Jr. 7 Kipp,S.J., Father Johann 54,56 Koma 64 Krikščiukaitis, Father Petras Kastytis 20 Krikščiūnas, Bishop Romualdas ii, 2 Krushchev, Nikita 27, 34 Kryževičius, Kazimieras 20 Kudirka, Vincas 36, 73 Kulichevskiy 65 Kulvinskas 52,53 Kuodytė, Albina 53 Kuzmickas 59 Kuzmickus, Father 63
Labukas-Matulaitis, Bishop Juozas ii Laurinavičius, Father Bronius 51 Lauritis 5 Ledochowski,S.J., Father 56,57, 61 Lenin 18,49, 62 Leščinskas, Father Leonas 16 Liesis, Father Antanas 29 Lileika, Father 63 Linova 66 Litvinova 61
Maironis 10,11, 73 Marcinkus, Father 63 Margis 66 Markevičius,S.J., Father Aleksandras 61,64 Martevičius 55 Masilionis, Algirdas 30, 32, 33 Masilionis,SJ., Father Pranciškus 60, 66 Maskvitis 59, 64 Matulaitis, Blessed Jurgis 5, 9,13,14, 15,16, 35, 36, 37,40, 72 Matulaitis, Father Pranciškus 34 Matulionis, Archbishop Teofilius ii, 23 Matulionis, Bishop Teofilius i Matulionis, Father Jonas Kastytis 8 Matulionis, Father Jonas-Kąstytis 1, 7, 19, 21, 36,51 Maželis, Bishop Petras ii Mickevičius, Adomas 38 Miežanskienė, Eleanora 53 Mikalauskas,SJ., Father 58 Mikašauskas, J. 52 Mileškas, Father 63 Minalga, J. 66 Mockuvienė, Mrs. 52 Molotov 17,18, 32
Navickas, Father Zenonas 4,5 Novikov, A.A. 47
Pačinskas, Father Juozas 7 Pakalniškis, Father Jonas 3 Pakamanis, Father Algirdas 3, 35 Paliulionytė, Danutė53 Palšis, Father Petras 5, 6, 7 Paisys 6 Paltarokas, Bishop Kazimieras i Paukštys,S.J., Father 58 Paulauskas, Father Jonas 53 Pečeliūnas, Povilas 19,45, 47, 74 Pečeliūnienė, Mrs. 47 Petkevičienė, Jadvyga 20 Petkevičius, Jonas 20 Petkus, Viktoras 19, 74 Petrakin 65 Petrauskas, Father 62 Petrauskienė, G. 52 Polikaitis, Father Vaclovas 34 Pope John Paul II 9,13, 25,50 Pope Leo XIII13 Povilaitis, Father Jonas 34 Povilonis, Bishop Liudas ii, 25 Požėla, Father Vladas 34 Prajara, Father Vytautas 4, 20 Pranskaitienė, Mrs. 52 Preikšas, Bishop Juozas 12, 16 Puzaras, Father Petras 4, 7 Puzonas, Father Rokas 3,5,19, 20, 32, 33, 38
Radvilaitė, Barbora 70 Račiūnas, Father Pranas 29 Raižytė, Aldona 20 Ramanauskas, Bishop Pranas i, ii Razmantas, Father Juozapas 20 Reinys 12, 39 Reinys, Archbishop Mečislovas i Rekunkov 41 Ribbentrop 17,18, 32 Rishkov 69 Ritmeister,S.J., Father Josef 57, 62 Rugienis, Juozas 22, 23 Rutkauskas, Dr. 59
Sadūnaitė, Nijolė 3,5,19,20,30,33,39, 40,41 Saint Casimir 2,12,14, 36 Saint Ignatius Loyola 14 Saint Joan of Arc 13 Saint Maximillian Kolbe 13,14 Sakalauskas, Father Qracijus 16 Sakalauskas, J. 10,13 Sakavičius, Gintas 12 Sakharov, Andrei 21 Šarakauskaitė, Ona 40 Sasnauskas, Julius 32 Sasnava 20 Ščepavičius, Father Pranciškus 34 Scott, Benedict 50 (Senkiw), Josef 71 Senkiw, Father Ivan 71 Senkiw, Taras 71 Šepetys, L. 2, 3,4,5, 6,43 Šeškevičius,S.J., Father 59, 60, 63 Shevchenko 8 Shliapnikov 55 Simutis, Liudas 20 Sin, Cardinal Jaime 50 Skeltys, Father A. 43 Skuodis, Vytautas 20, 50 Skvireckas, Archbishop Juozapas 58, 62 Slabšys,S.J., Father 58 Sladkevičius, Bishop Vincentas ii, 2, 5, 12, 25, 26, 32 Soloid 55 Songaila, R. 6 Šovis,S.J., Father 60 Stakėnas, Father Vaclovas 20 Stalin ii, 17,18,19, 30 Stankaitis, J. 14 Stankevičius, Father 60 Stankevičius, Father Juozapas 22, 23, 24 Stasiutis, Father Boleslovas 34 Steponavičius, Bishop Julijonas ii, 2,11, 12,19, 20, 21, 24, 27, 34,51 Stepučinskas, A. 40 Sungaila, R. 2 Suvorova 65 Sužiedėlis, Msgr. 57 Svarinskas, Father Alfonsas 7, 9,19, 21, 36,42,52, 74
Talaišis, Father Bernardas 7 Tamkevičius, Father Sigitas 9,19, 21, 36,43,51, 74 Tamoševičius, Father Vaclovas 35 Telksnys, Father 63 Terleckas, Antanas 33 Tomkevičius, Father 69 Tučkus, Andrius 32 Tutu, Archbishop Desmond 38 Tvirbutas, D. 33
Umestauskaitė-Žagarietė,Barbora34, 66, 67, 68, 69 Umestauskas 66, 67
Vaičekonis, Father Pranciškus 11 Vaičiūnas 64 Vaičiūnas, Vytautas 20 Vaičius, Bishop Antanas ii, 6, 7,10,13, 16, 27 Vaižgantas 14,15 Valaitytė, Bronė 20 Valančius, Bishop Motiejus 10,11 Valatkevičius, D. 51 Valuckas 64 Vasilyk, Father 71 Venckus,S.J., Father 58 Venckus,SJ., Father Petras 58 Vytautas the Great 11
Wrangel 61
Žemaitis, Father Juozas 15 Yla, Father Stasys 15 Žukas, Father Kazimieras 34 Žagarietė,(SeeUmestauskaitė-Žagarietė) Zamarienė, Mrs. 53 Zdebskis, Father Juozas 51 Zechini,S.J., Father 56 Zhigoriech 64
INDEX OF PLACES
Adakavas 52 Africa 14 Alizava 53 Alksnėnai21 Alsėdžiai 54 Alytus 20, 29 Alytus II29 Anachovo 7, 8 Antakalnis 30 Antwerp 55 Austria 55 Ažytėnai51
Balbieriškis 21 Barashev 50 Belgium 55, 61 Belshire 64 Bernatavas 54 Bijutiškis 20 Bombay 14 Borchshev 71 Buchach 71 Byelorussia 30, 32, 72
Canterbury 55, 61, 62 Chelyabinsk 7 Chicago 41 China 14 Chirov 55 Chita 7, 8 Čiobiškis 20 Cracow 55 Czechoslovakia 72
Deltuva 5,52 Dolinsk 71, 72
Engen 61 England 61, 62, 64 Estonia 17
Finland 17
Gargždai 22 Garliava 9,12, 20, 21 German Democratic Republic 18 German Federal Republic 18 Germany 17 Gorky 21 Goshev 71 Griškabūdis 21
Hastings 55, 62 Helsinki 36,48 Holland 62
Ignalina 30 Irkutsk 7 Ivan-Frank 71, 72
Joniškis 22, 23, 31 Josvainiai 20
Kėdainiai51 Kairiškiai 53 Kaišaidorys 25 Kaišiadorys ii, 4, 25, 26, 32, 57, 60 Kalusk 72 Kampuchia 39 Kapčiamiestis 12 Kapsukas 35, 36,40 Kasovskij 72 Kaunas i, ii, 3, 9,10,11,12,13, 20, 22, 23, 24, 29, 30, 31,50, 55,56, 57,58, 60, 62, 63, 65, 69 Kėdainiai 9 Kelmė 60 Kiaukliai 20, 32, 33, 34, 35, 38 Klaipėda ii, 4,5,27,28,29,74 Kozmach 72 Kražai 11 Krokialaukis 20, 21 Kupiškis 53 Kuršėnai 3 Kybartai 8, 9 39. 40
Latvia 12,1? Lazdijai 4, V Lieplaukė 54.55 Liudvinavas 22 London 14, 61. 62
Marijampolė 9. 15.2a. 36 Mažeikiai 56 Merkinė 21 Molodechno 30 Mordovia 43.50 Moscow 11,12,52,57
Nadvorno 71 Nemenčinė 32 Novoorlovsk 7, 8 Nuremberg 39
Pabradė 32 Pagryžuvis 56,57,58,59, 60, 63, 64 Pakruojis 21 Palėvenėlė53 Palange 55 Panevėžys i, ii, 5,27,52 Papilė 53 Pelesa 72, 73, 74 Perm 42 Philippines 10 Pilėnai66 Piniv 71 Pivašiūnai 21 Poland 2,17, 66
Radviliškis 60, 62 Raktuvė66 Raseiniai 52, 60 Republic of South Africa 38 Rietavas 21 Riga 19,50, 67 Rome ii, 13,16,56, 61, 64 Roumania 17 Rozhniatovsk 71
Šakiai 15 Saldutiškis 4 Samogitia 69, 70 Sasnava 20 Scotland 64 Šeduva 23 Šeškinė 32 Šeštokai 9 Šiaudinė53 Šiauliai 11, 20, 27, 51,53,55,56,57,59, 60, 62, 63, 66, 69 Siberia i, 17,43 Šiluva 2, 3,52 Simnas 21 Širvintai 30, 31, 32, 33, 35, 38 Skaisgiris 55 Skaudvilė 12,20,51,52 Skuodas 5 Slavikai 21 Smolensk 7 Sniečkus 30 St. Petersburg 61 Švenčionis 32 Svetė66 Svyriai 32
Tallinn 19 Tauragė 4.51,55 Telšiai i, ii. 4. 6, 13, 16, 26, 27, 5*4. 56 Ternopil 71 Trakiai 32 Transbaikal 9 Transcarpathia 72 Trushivka 72 Tytuvėnai3
Uganda 14 Ukmergė52 Ukraine 71 Ukrėnai56 Utena 30
Valakampiai 30 Varenov 72 Varlaukis 55,56 Vatican 13,14, 25, 26, 61, 64 Viduklė21 Viekšniai 53 Vievis 30 Vilkaičiai 54 Vilkaviškis i, ii, 9, 22, 24, 29, 39 Vilnius i, 2, 3,4, 7, 9,10,11,13,14,19, 20, 21, 22, 23, 24,26, 28, 30, 31,32, 33, 36, 37, 38, 39, 40,41, 50,51, 64, 65 Vladimir i Voronezh 7 Vyshkov72
Yaroslavl' 42 Yasenij 71
Žagarė 20,21,22,23,24,27,34,66,67, 68, 69, 70 Žaižmariai57 Žalpiai20 Žemaičių Kalvarija 3,12,13,21,51 Žydikai56 Zarasai 9, 30 Žvaigaičiai68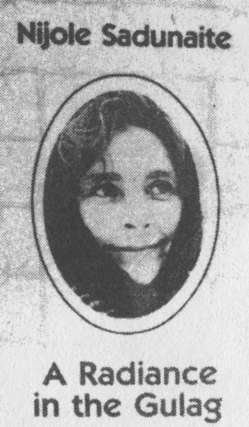 Nijole Sadunaite A RADIANCE IN THE GULAG
This is the heroic story of one woman's witness to the Catholic Faith in the face of an atheistic state. Harassed by the KGB, im­prisoned, exiled to Siberia, re­leased, and harassed again: Nijole Sadunaite continues to defend the Church in Lithuania. This is her own story, smuggled out in January 1987. Photos, 148pp (cloth $9.95; paper $5.95>
Sale price: cloth $7.95; paper $475
ORDER TOLL FREE AT 1-800-247-9079
Virginia and Alaska, call 703-369-2429
TO HELP THE CHURCH IN COMMUNIST-OCCUPIED LITHUANIA OR TO ORTAIN FURTHER INFORMATION, SEND YOUR TAX-EXEMPT DONATION, OR WRITE TO:
Lithuanian Catholic Religious Aid, Inc. 351 Highland Boulevard Brooklyn, NY 11207