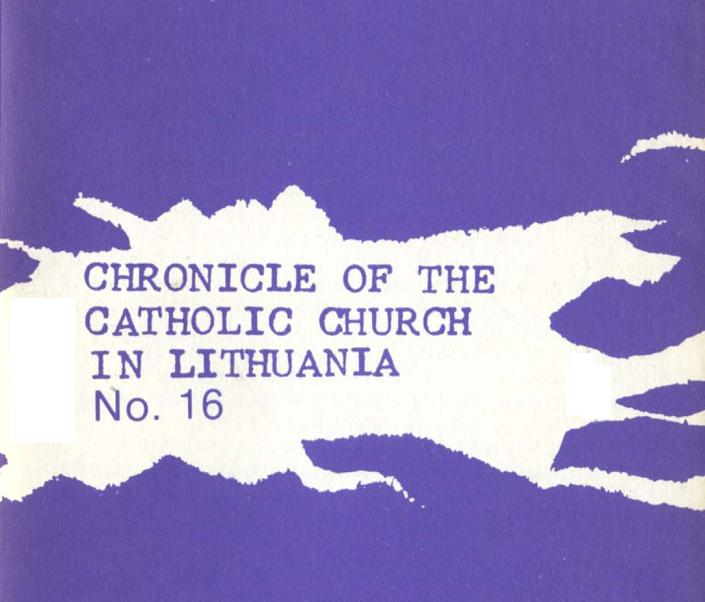 Calumnies against the CHRONICLE OF THE CATHOLIC CHURCH IN LITHUANIA
Statement of Father Laurinavičius
CHRONICLE OF THE CATHOLIC CHURCH IN LITHUANIA
No. 16

A Translation of Authentic Reports from Soviet-Occupied Lithuania
Published by the Lithuanian Roman Catholic Priests' League of America 351 Highland Roulevard Rrooklyn,NY 11207
© Copyright 1978 by the Lithuanian Roman Catholic Priests' League of America
Printed by
Franciscan Fathers Press 341 Highland Rlvd. Rrooklyn, NY 11207
CHRONICLE OF THE CATHOLIC CHURCH IN LITHUANIA No. 16
Introduction
The sixteenth issue of the Chronicle of the Catholic Church in Lithuania opens with a report of the trial of Juozas Gražys, March 11-17, 1975, before the Supreme Court of the Lithuanian SSR for allegedly participating in the production of the Chronicle. Gražys is found guilty — his third political conviction.
The wife of Sergei Kovalev, and A. Lavutas are interrogated when they bring packages to the Russian dissident being held in­communicado in Vilnius.
A number of other interrogations is reported, and ethnic heritage researchers are under surveillance and investigation.
Virgilijus Jaugelis, in prison for religious activities, is reported as having been beaten up while at prayer. He has also been diagnosed as suffering from advanced cancer. His mother's written complaint to the Prosecutor General of the Lithuanian SSR is rejected. A deeply religious man, he asks only for prayers.
This issue denies calumnies against the Chronicle of the Catholic Church in Lithuaniadisseminated by the KGB.
A number of arrests and interrogations of individuals by the KGB is reported, without giving any specific reasons. In a few instances, there is some indication that individuals are suspected of nationalist activities. Most of the names are new, except for some like that of Father Sigitas Tamkevičius.
Another destruction of religious memorials on the Hill of Crosses at Šiauliai is reported, together with continuing popular resistance there.
The case of Mečislovas Jurevičius is reported: Jurevičius is discharged from work for absenteeism, because he insisted on observing religious holy days, making up the time in other ways. Two fellow workers, J. Šileikis and S. Čilinskas, arouse the ire of their superiors for the same reason. Jurevičius is even inter­rogated by Security in connection with the case of a (Mrs.)
Pergauskienė, who is apparently being questioned about the dis­semination of religious literature.
The vandalizing of the church at Tūbausiai is blamed by the Chronicle on the "hate for religion being blindly instilled in schools."
A Communist Party member who dies reconciled with the Church is denied a religious funeral by the Party. A local newspaper refuses to carry a note of condolence to the local priest on the death of his mother. A mailman is forbidden to participate in religious processions. A pastor is prevented from repairing the clock on his church. A cemetery is vandalized, apparently by atheists. Strict rules governing the summoning of clergy to visit the sick are spelled out by hospital authorities. Doctors are admonished by hospital authorities to show more zeal for atheistic propaganda. A religious grave marker in preparation for erection disappears, under circum­stances which point to official condonement.
The parish organist of Skrebotiškiai is reprimanded by local government authorities for allegedly enticing youngsters to come to Church. Priests complain of being maligned with the condonation of the authorities, saying, "Such slanderous discrediting of a priest is a conscious and open battle against religion."
Elsewhere, an organist is fined because school-children sing in the choir. A priest is required to obtain government permission in order to preach in a neighboring parish. Plain-clothes men watch people at prayer in church. Children serving at Mass are interrogated. A pastor is interrogated by police about his Easter sermon. A couple in the Communist Party is persecuted for having its child baptized. A collective farm worker is pressured not to be married in church. A physician who had been a candidate to the Communist Party, although a religious believer, is buried with church ritual and the pastor is harassed as a result.
These and similar incidents reported in the Chronicle of the Catholic Church in LithuaniaNo. 16, indicate that government persecution of the Church in Soviet-occupied Lithuania continues unabated. They also indicate the enduring stubborness of the Lithuanian people in their adherence to the faith of their fathers.
Rev. Casimir Pugevičius Translation Editor