Gintautas Iešmantas, now in exile, writes:
"For five years now, your words and good wishes have kept me company on the difficult road of suffering. They have given me strength and the pleasure of knowing that my sacrifice has not disappeared in the darkness of anonymity, that there are people who are concerned with the fate of someone they don't know. Presently, I am in exile --since the morning of April 5-- and have the possibility of thanking you for that priceless moral support provided by your brief greetings, for the warmth of your hearts and souls which reach me in the snow-fields of the Urals, regardless of obstacles and possible unpleasantness. Of course, only part of your letters were turned over to me, and for the last year, I did not receive any of them, but I feel that they exist, helping me to live and not to lose faith and hope for even an instant. To me, they sounded like the intoxicating voice of home, so precious and dear in this unfortunate place so far away.
"For the last six months, I was in camp number 36... Father Alfonsas, as the prisoners call him, is always alert, in good spirits, full of faith and hope. I am glad that fate provided the opportunity to get acqauinted with him; he is a man of wonderful spiritual strength, a far-ranging thinker, attractively tolerant, and the impression he left will never fade from my memory. When you know that there are such people as he, it becomes easier to live, and you feel that you will bear up to the end with your spirits unbroken and ready for anything, bearing the cross of stern duty.
"My exile, like that of everyone else, is part of the way of this stern duty. While in camp, you think to yourself, 'You're going to get out, and somehow or another, things will be better.' But when I saw where they had brought me, I was downright shocked. The only job is cutting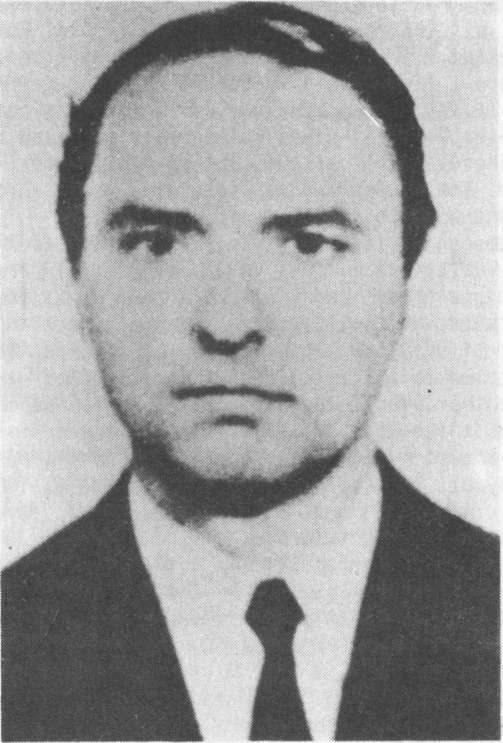 Gintautas Iešmantas
timber, hauling it, and floating it. There is of course a lumber mill, albeit a small one, so not a single job is beneath me. At first, I got one of these jobs, but when the doctor found out who I was, he asked me directly. 'Do you know or understand what kind of work it is?'
"Obviously, I did not have the slightest idea. In view of the fact that the palm of my right hand is bothering me, and needs an operation, he made a note recommending that I be given work which would not involve heavy lifting. This is how I ended up with the duties of a guard (in that same sawmill). I don't know whether to laugh or to cry, but as it turned out, it was the very best solution. There is plenty of leisure time, | am my own boss, except for one or another Saturday.
"At 4:00 PM today, I will be going back for the second time to this job. I live in a dormitory, sharing a room with a little Byelorussian from Transcarpathia. He praises the Soviet government, and criticizes capitalism just a bit too much. But that is his affair. I don't allow myself to be drawn Into discussions, and I am not friends with anyone. In my situation, all the more because in the Rayon of Vuktil, I am the only bird of this kind, it appears that the same position is most convenient. The place where I live itself is not small. They say that there are about 3,000 people living there. However, it is not very conveniently laid out. Nearby flows the Pechora, along which boats sail and rafts float by during the summer. There are, I believe, three food shops, a hospital and a middle school. The houses are of wood, one story high, except for the dormitories and administrative buildings.
"I have begun to settle in. Now everything looks different. A bus runs between Vuktil and Podcher'ye (about 20 km.), from Vuktil to Ukhta (118 km.) a plane flies, and from Ukhta to Moscow, there is another plane or train (Vorkuta - Moscow). Later it seems, I wi11 have to find myself a private room. If only the winters were not so cold! There is no way I can become accustomed to the cold, and here, it drops to 50 degrees below zero. I trust that everything wi11 be alright, especially since, as I said, here too, 'the good angel still watches over me'...
"Please accept my sincere greetings! "P.S. Releasing me from camp, they took away all letters." Podcher'ye, April 14, 1986.
Gintautas Iešmantas' address: 169715 Komi ASSR Vuktylskij r-on
pos. Podcher'ye, ul. Sovetskaja, obšč.N:1 Gintautas Iešmantas
Father Sigitas Tamkevičius writes:
"...Thanks to everyone for everything. So it is that we wish to remember the words of Saint John Chrysostom, 'You give bread, and receive Eternal Life. You give a garment and receive the garment of Immortality. You give temporary goods, and receive eternal goods. You receive more than you give.'
"The most precious gift for me was the Sacred Scriptures. In my free hours, I read and ponder in my heart the Lord's words. When I lived in freedom, there were many chores and concerns, and many things remained unexamined, too little plumbed. God brought me to the Urals, and provided the setting for a long retreat, that I might better hear the Lord's word, and taste the bread of the Lord in a more real fashion. The three apostles, having felt the proximity of God, cried out, 'It is good for us to be here!' Wherever we are, in freedom or in prison, at the altar or at a kitchen sink, the presence of God cheers and comforts us. Intercede for me with your prayers, so that this presence of God might be a reality in my Ii fe.
"... there is nothing new in my daily life, my alarm clock arouses me for work every other day. This is my Nazareth... I am trying to get into the solemn spirit of Lent. How quickly time flies! Sometimes I am seized with fear: 'Lord, just don't let those quickly passing days be empty, if only they would serve in some small measure for the spread of God's
kingdom...'
"I send greetings to all who have visited me and I am prayerfully
grateful to them." February 14, 1986
From a letter by Jadvyga Bieliauskienė:
"...I became very ill with three relapses. Sacrifice is a sign of affirmation. My soul was flooded with a clear light never before seen, which accompanied me and continues to accompany me in hardships never before experienced, lighting the way in new colors to a constantly deepening and growing enunciation of self, or perhaps to death as a sacrifice freely accepted. If it should happen, rejoice and praise the Lord, that the humble sacrifice of the most unworthy and wayward one became accepted for the purpose of saving our infants and children from deadly drunkenness and the harsh fate it brings: broken families, unnatural children lacking care, no morals and lack of faith...
"The gift of faith helps the most ordinary believer to look upon suffering as upon a necessary, cleansing power.
"I understood that suffering is only fruitful when we accept it submissively only then does it open the eyes of the soul. The desire to raise our dear ones from their fall lends meaning to our suffering which in the name of saving them we accept with joy, ourselves growing in love, freed by it from the fear of suffering. 'Whoever is afraid still does not love enough,' says the Apostle of Love. Oh how many unhappy people leave this life having never awakened to love, having never shed their blindness! How sad! I pray constantly that they would wake up at least at the hour of death, that they might be awakened by a merciful God...
"Greetings to everyone, everyone!
"With you always at the feet of the Eucharistic Jesus, my dearest ones!"