Father Alfonsas Svarinskas writes:
"Time passes very quickly here, too; it has been three years already and it seems like everything happened yesterday. Time leaves marks on everyone, and I'm 62 years old already. I do not have much longer to live, and yet, how many good ideas in my soul! But I am not growing old in spirit, probably because I am in good physical condition.
"On Sundays, I adhere to our Viduklė schedule. Each day, we draw nearer to eternity. It is important that we mature in spirit, and do everything in our power to leave the world behind us more beautiful, better and more just. Let us remember the verse in the Gospel about the talents; we must justify God's trust in us.
"I am glad that you visit Viduklė and remember me. Usually it is said, 'Out of sight, out of mind.' In this case, it is just the opposite: after all, it has been three years. In this way we a 11 grow...
"Saint Augustine was really right when he said that our hearts will rest only in God. My hope is the Lord God. I am happy, since, as Saint Luke affirms, 'The Lord loves a cheerful giver.' Forgive me for being brief. It will soon be Easter the resurrection of Christ. I greet everyone, everyone! With you in prayer and spirit. Allelulia!"
February 12, 1986
From the letters of Father Sigitas Tamkevičius:
"This is the third Easter that I am not hearing the organ and the * A11eIuIi a * joyfully echoing from thousands of hearts, but the Feast of the Resurrection of Christ overcomes distance and barriers and makes the heart tremble joyfully. Easter experiences are so precious to me that they cannot be dimmed neither by time nor by any distortion...
"Holy Thursday evening, in my thoughts, I participated in the Last Supper. After that, I stood at the foot of Christ's cross, and Saturday evening, with all the living members of the Church, I renewed my baptismal promises. Easter Day was a holiday from work, so I was able to meditate without interruption, to associate with the Lord of life and death, and with all those for whom the resurrection of Christ is the greatest truth in life.
"On Holy Saturday evening and Easter, I prayed especially for the people closest to me, that their life, signed with the resurrection of Christ, might be full of the fruits of the Spirit: love, joy, peace, patience, kindness, goodness, trustfulness, gentleness and self-control, (c.f. Galatians, 5,22)
"I trust that in our homeland, more than one pair of hands will be joined in prayer for me as well, so that having once taught others to live and suffer, I would not now be just a 'gong booming or a cymbal clashing.'
"Easter Tuesday, I read the newspaper Arguments and Facts, and could not believe my eyes -- on March 5, Father Juozas Zdebskis died tragically. I read the report again and again and there was no doubt. The Lord's will be done! He knows best who should work, who should suffer and who should rest after all tr ibulat ions.
"I first met Father Juozas in Alytus, in the spring of 1965. He replaced me and I went to Lazdijai. After a few years, providence brought us together on the job, at the Prienai reclamation project. It was always possible to learn from him self-sacrifice, perseverence, tranquility and depth of spirit. Lord reward him for his big heart and that goodness which he shared with others, by granting him eternal life and peace next to your heart!"
Apr i I 7, 1986
Father Jonas-Kąstytis Matulionis writes:
"...My most meaningful days were not those during which audiences in Moscow and in Vilnius applauded, and not when, at the mention of my name, applause would roar out (Father Jonas-Kąstytis Matulionis studied at the Conservatory of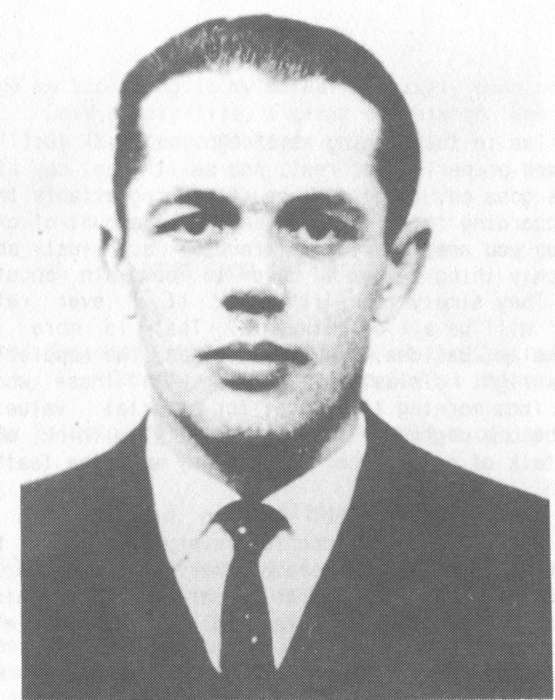 Povilas Pečeliūnas
Vilnius, and was expelled from it for singing in Church), but in the priesthood. To be moved offering the Holy Sacrifice of the Mass, to weep with the penitent, to experience the thrill of preaching, to comfort the sick; at the baptism of a child, earnestly to ask the parents to be an example for life... and everything for which the priesthood empowers one. We must accept everything which the Lord sends, worship Him wherever His will places us, where He wishes to be worshipped by us. Our duty is to do His will, to submit and be thankful, no matter where our road leads, in what lands we stop in and among what faces we have to live -- even though it be hell on earth -- so long as it be with God!"
1986
Povilas Pečeliūnas writes:
"...Ah, health! How very necessary it is. Alas, it is the worst problem. I would like to remain silent about myself, but that air, it seems -- air is not bought or sold, one should not have to safeguard it... However, it appears that oxygen is also rationed. It would appear that for someone like me, there is a required minimum of oxygen... and keeping in mind my age and health, obviously there Is not enough of it. "You rise in the morning as though you had just finished work and were preparing for rest. And so it goes, day after day. And as time goes on, it gets worse. It is regrettable that I do not know according to which 'paragraph' the amount of oxygen is set... So as you see, everyone's troubles are just about the same. The only thing I don't have to complain about is my apartment. They simply took it away. If I ever return, my 'apartment' will be all of Lithuania. That is more important than four walls. Besides, the less one has, the happier one is. It is downright distasteful to look at those who drive themselves from morning till night for material 'values'. They gradually become degraded, lose the ability to think, and there can be no talk of conscience, though they wear the feathers of a peacock.
"When a person does not concern himself with material goods, he fears nothing. He carries everything with him. And those who wish to break him become powerless, because they do not have the means to frighten or terrorize him. At this time I have nothing, so I can look at many things with a smile."
1986
From the letters of Vladas Lapienis: "0 great God and Father dear, Strengthen man, frail and weak. It is so ordered that only heaven fulfills his boundless desires."
(Maironis)
"Accept trials with the greatest joy for they strengthen faith, test and develop patience and perfection," says Sacred Scripture. I have the high honor of being the oldest of all the prisoners in this zone. According to some prisoners, I am as it were their father. Even though deprived of freedom, nevertheless, by modeling one's life on the life of Jesus, one begins to understand the Lord's words better. I cannot brag about the state of my burden, for heart pains do occur: however, I am happy and I rejoice because the Lord has said, "Rejoice and be glad for a great reward awaits you in heaven"... Why then should we mourn? Always and everywhere let us trust the test sent by God, for those who love Him, all things work out for the good... Eternity draws near, the Christian must always be in the future... Many people remain unacquainted with the Gospel, if they are not taken with its living spirit... Often I wish neither to read nor to listen: I find in God everything I want. I recall the words of Thomas A' Kempis, author of The Imitation of Christ: if I possess all the knowledge in the world, but have not love, what good will that do me in the sight of God, who will judge me according to my works? Prolixity does not satisfy the soul... Only a holy life, a clear conscience and trust in God constitute true peace of heart.
1985